Join Us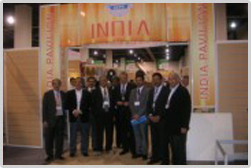 AEPC has provided inestimable services to its members over the years. The bi-annual prestigious India International Garment Fair has brought together several buyers and exporters, setting the stage for mega deals; the Council's assistance in helping its members to participate in international fairs and facilitating the exhibition arena along with other local arrangements has allowed exporters to focus entirely on showcasing their products rather than worry about administrative details.
AEPC plays a pivotal role in channeling members to participate in the right international fairs by making an assessment of all the fairs to be held during a year, examining market trends and determining which fairs will help expand the Indian export market: it sends out its recommendations to the members, thereby allowing members to get an early advantage to participate in the fairs that are best suited to their products. The Council also plays a large role in mobilizing buyers not just to domestic fairs (held in India), but at international fairs as well, through its well-networked industry connections.
AEPC'S superior research wing provides fashion forecasts and market dynamics that have helped members to be proactive, stay ahead of trends and continuously innovate to meet buyers' changing needs. Its comprehensive Apparel Importers Directory lists international importers while its Exporters Directory provides an exhaustive listing of Indian garment exporters, their production and technical capacities as well as their status. This information is available in most countries at the Indian High Commissions.
In its bid to get exporters to stay one step ahead of the game, AEPC organizes seminars and workshops year-round, with distinguished experts as speakers on subjects that range from design, textiles, government policies, bilateral agreements and international trends. The Council's empanelled industry experts are also available to its members for consultations and guidance. Members' achievements are further highlighted in all publications of the AEPC, giving the entire industry a chance to stay abreast of new developments, emerging innovations, milestones and setting new standards.
AEPC's formidable resources that members can call on at any time include the state-of-art Apparel House at Gurgaon, which houses a permanent display of garment manufacturers' products to international audiences; as well, to further strengthen the industry and provide a pool of skilled workforce on a sustainable basis, the Council has set up the Apparel Training and Design Centre to impart cutting edge education and training in manufacturing, production, pattern, quality control, merchandising and much more.
It is no wonder that the country's top exporters are AEPC's members and the family continues to grow each year! Today, more than 8000 members account for 8% of India's total exports and 3% of the world market.
Becoming a member of the prestigious AEPC is not just easy, but is hugely beneficial.
Any firm or society and/or a statutory organization who is an exporter of garments,whether Manufacturer Exporter or Merchant Exporter interested in the Export and the aims and objectives of the Council shall be eligible to be registered as a Registered Exporter of the Council if :
He/she is more than 18 years of age in case of an individual or sole proprietorship firm.
He/she/it has not been adjudicated insolvent by a Competent Court of Law.
He has not been convinced of an offence involving misconduct or moral turpitude.
Some of the benefits that AEPC members enjoy are:
End-to end support for members to participate in domestic and international fairs.
Workshops, seminars, study groups and lectures that help members to stay updated with current trends, technologies and market intelligence.
Issuance of Certificate of Origin, Issuance of Export Performance Certificate (EPC) for duty free import of trimmings and embellishments.
Access to industry statistics and information on happenings in the apparel industry globally, through its publications and articles.
AEPC's path breaking work on human resources development through its various initiatives have yielded rich results for the entire industry: there is now a pool of trained manpower across all levels from management to workforce, a constant upgrading of skills has helped improve productivity; Focus on rural hubs has prevented migration of labor into other industries. A responsible corporate social welfare policy ensures the well-being of labor and their families, creating the base for a well adjusted and happy workforce.
Access to Apparel House, a state of art complex that allows exporters to showcase their strengths in a truly international setting to a year-round captive audience.
Membership with the AEPC must be renewed every year by paying the annual subscription which becomes due on the 1st of April each year and can be deposited upto 31st May of that year. Subsequently the Committee may accept the payment with additional charges upto 30th June of that year. Non-renewal of membership will result in automatic cancellation of the Registration Cum Membership Certificate.